Mercy College of Ohio Announces Joint Nursing Program with Tiffin University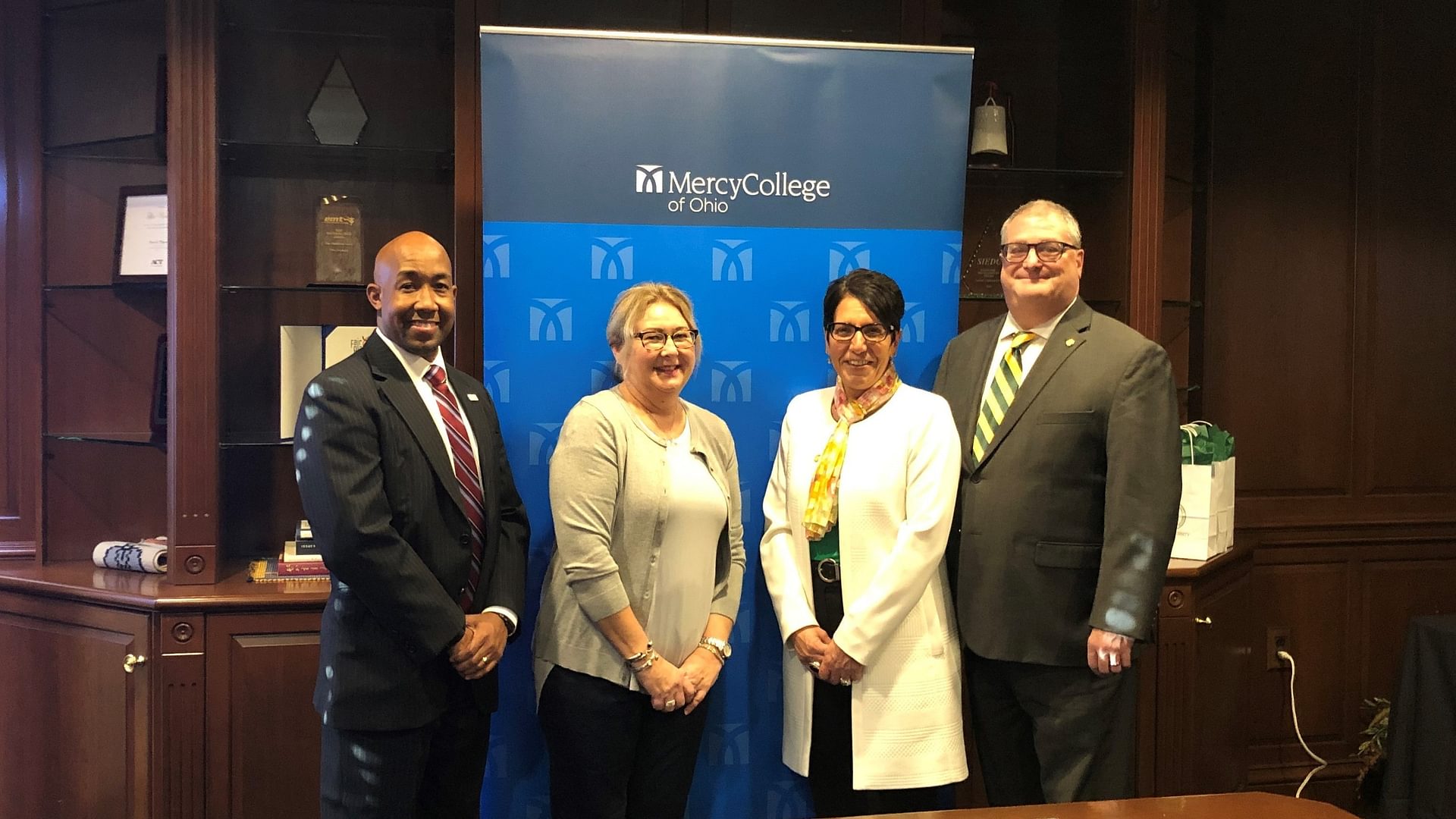 Lori Edgeworth, Vice President of Strategic Planning Institutional Effectiveness and Enrollment at Mercy College; Dr. Trevor M. Bates, Vice President of Academic Affairs/Dean of Faculty at Mercy College (standing in for Mercy College of Ohio President Dr. Susan Wajert); Dr. Lillian Schumacher, President of Tiffin University and Dr. Peter Holbrook Provost & Chief Academic Officer at Tiffin University official signing ceremony on Nov. 25.
The United States is projected to experience a shortage of Registered Nurses (RNs) as Baby Boomers age and the need for health care grows. Compounding the problem, according to the American Association of Colleges of Nursing (AACN), nursing schools across the country are struggling to meet the rising demand given the national move toward healthcare reform.

To address the nursing shortage, Tiffin University and Mercy College of Ohio have collaborated to create an innovative dual degree bachelor's program to begin in the 2020-2021 academic year. In the new joint program, students earn two degrees--a Bachelor of Science in Applied Health Science (BSAHS) from Tiffin University and a Bachelor of Science in Nursing (BSN) from Mercy College.
"According to the Bureau of Labor Statistics, registered nurses are projected to generate approximately 711,900 new jobs, the largest number of new jobs for any occupation," said TU President Lillian Schumacher. "Students entering Tiffin University and completing this dual degree program will help fill the nursing needs in the State of Ohio. Dual credentials will allow students to demonstrate to future employers that they have the critical broader knowledge of allied health sciences to support their practice as a nurse."
Dr. Susan Wajert, President of Mercy College of Ohio states "This is an innovative way for two colleges to partner to meet the healthcare needs of the communities we serve. Students who participate in the dual degree will have a broader educational perspective as they prepare for the nursing profession."
"For years, prospective students of Tiffin University have consistently identified nursing as their professional choice," Schumacher continued, "and keeping in line with Tiffin University's academic career focus to support students who wish to work in professional positions, this initiative will provide students the opportunity to enter a nursing program."
"Mercy Health believes in helping to foster the next generation of healthcare providers and we are pleased to have Mercy College as part of our Health System. This agreement with Tiffin University is an example of an exciting opportunity to partner with other institutions for the good of our community and with the goal of increasing the number of medical professionals in our community" stated Bob Baxter, President, Mercy Health - Toledo.
The new degree requires a 129 credit hour program with 64 credits earned in core and applied health science courses at Tiffin University and 65 credit hours in BSN coursework from Mercy College.
"This new major is a substantial advantage for our students," said Dr. Peter Holbrook, Tiffin University's Provost and Chief Academic Officer. "By partnering with Mercy College, our students will have access to top clinical sites as well as practicing medical professionals. "This will also lead to better job placement as they will most likely be able to obtain positions within the Mercy Health Care System. It aligns perfectly with TU's mission--to educate students by linking knowledge to professional practice."
President Schumacher concludes, "Tiffin University's new major has the potential to transform our campus as we move to offer degrees in allied health disciplines. Mercy College is the ideal affiliate in this strategic alliance focused on student success. We are ecstatic about this partnership."
For additional information email Sarah Johnson, Director of Undergraduate Admissions, JohnsonSaT@tiffin.edu.
More Articles
Summer 2023 Honors Announced

Mercy College has announced honors for the Summer 2023 term.

Continue Reading

Mercy College Hiring Student Workers

Eligible students who demonstrate financial need based on their 2023-24 Free Application for Federal Student Aid (FAFSA) may be considered for Federal Work-Study (FWS).

Continue Reading

Meal Packing Event Exceeds Goal

Mercy College faculty, staff, and students packed over 10,000 meals for SewHope.

Continue Reading