Day Classes
:

Associate of Applied Science Degree in Nursing
beatingheart icon
Fast-paced critical thinking and individualized care are the pillars of this Toledo-based nursing program.
Program At A Glance
5 semesters
Typical program length for full time students
$68,450
Median national annual wage for registered nurses
711,900
Number of new registered nurse jobs projected by 2024
A strong foundation for a cutting-edge career as a nurse includes a blend of critical thinking and caring. Mercy College will prepare you for this important, in-demand career working directly with patients and physicians as a Registered Nurse (RN). This degree program provides you with a quality education and solid preparations for a career as a RN. The coursework for this program is completed during the day.
The Associate of Applied Science in Nursing program courses begin in the fall semester (August) however students can be admitted and begin taking pre-requisite and general education courses toward their program of choice in the fall semester (August), spring semester (January), or summer semester (May).
Associate degree nursing education which occurs in institutions of higher learning prepares the graduate with the values, knowledge and skills needed to practice nursing with integrity and professional competence.
Associate degree nursing education, in conjunction with integration of knowledge from other disciplines, provides a broad theoretical base in nursing, related sciences and general studies; knowledge of the role of the associate degree nurse; the ability to practice in multiple settings; and a foundation for advanced nursing study. An essential component of nursing education is the concurrent integration of theory into the clinical practice setting. The graduate is prepared to function as a manager of care in acute and long-term settings where policies and procedures are specified and guidance is available.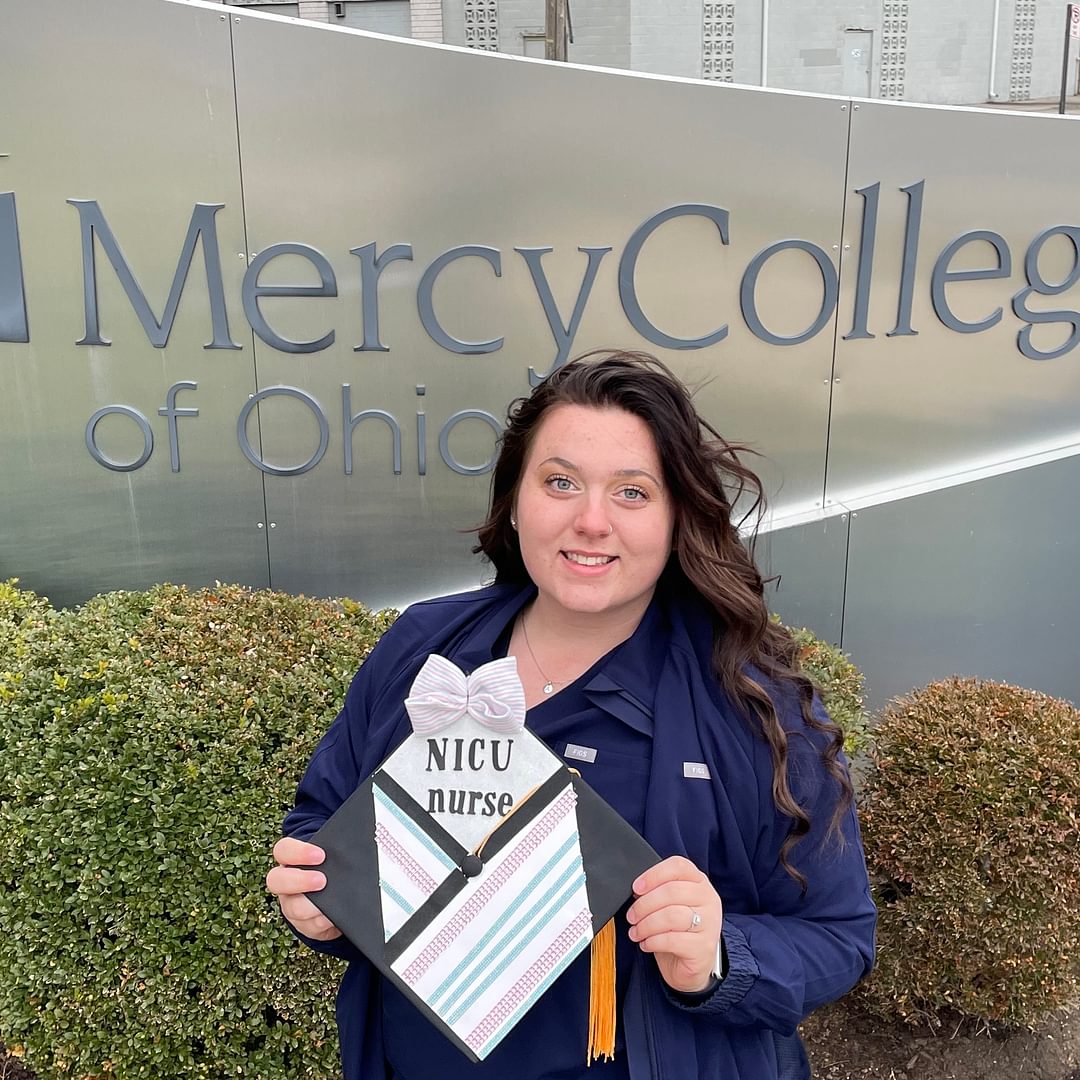 Most of my classes were directly related to the career I was obtaining.

My favorite part of my Mercy education was going to clinical and having the opportunity to learn new skills! I felt well prepared for the NCLEX. My Mercy College experience prepared me for my current RN position by teaching us the values of nursing more then tasks!"
Kayla Gable
Associate of Applied Science in Nursing '22
Submission Failed
Uh oh! We were unable to process your request at this time. Please try again later or contact our admissions office.
Success!
We've received your request for more information and are excited to share with you all that Mercy College has to offer.
Derived from the mission, philosophy, and organizing framework, program student learning outcomes are:
Apply the nursing process in assisting the patient to meet self-care requisites.
Integrate health-illness concepts in the provision of care.
Synthesize concepts of the teaching/learning process in the delivery of care.
Demonstrate accountability and professional behavior in entry-level associate degree nursing practice.
Using the concepts of the Self-Care Deficit Theory of Nursing, formulate plans of care for patients across the life span.
Integrate knowledge of the humanities, sciences, and nursing research to provide rationale for nursing practice.
Demonstrate the consistent performance of safe, effective nursing skills in entry-level associate degree practice.
Demonstrate interpersonal skills throughout nursing practice.
Practice Christian values within the ethical, legal, and professional standards of nursing practice.
Candidates must be high school graduates with a GPA of at least 2.7 or GED recipients with a score of 570 (score of 57 prior to 2002).
Applicants must have completed and passed these high school courses, or their college equivalents:
*Biology – one year
*Chemistry with a lab – one year
*Math – Algebra – one year
All courses should be completed with a grade of "C" or better; a grade of "B" or better is preferred.
*Courses must have been completed within the past seven (7) years with a grade of "C" or better.
Transfer Student Guidelines
Transfer students must be high school graduates or GED recipients and have earned a minimum of 15 credit hours of college coursework with a GPA of at least 2.7 and have completed all the necessary program prerequisite courses from an institution accredited by one of the following accrediting organizations recognized by the U.S. Department of Education: Higher Learning Commission, Western Association of Schools and Colleges, Middle States Commission on Higher Education, New England Commission of Higher Education, Southern Association of Colleges and Schools, Northwest Commission on Colleges and Universities. For applicants who have attended more than one college, the cumulative GPA from all colleges must equal at least 2.7. The Nursing Division AAS Program Admission Scoring Rubric is used to objectively review candidate educational records.
The AAS Nursing Pre-licensure Program Admissions Committee will not consider applicants for admission into the program if applicants have failed two or more nursing courses at another college or university or have been dismissed from another nursing program in the past five (5) years.
Students who do not meet the requirements or who need to complete the necessary program prerequisite courses should review General College Admission Requirements in the Enrollment Management section of the College Catalog.
Candidacy Review Process
All candidate information is thoroughly evaluated by the AAS Pre-licensure Nursing Program Admissions Committee using the AAS Program Admission Scoring Rubric. The scored rubric provides an objective review of candidates' educational records. Accepted students receive a letter from the Dean of Nursing.
To earn the Associate of Applied Science Degree in Nursing students must complete all college requirements for an Associate of Applied Science Degree including:
General Education Requirements
Complete All of the Following Courses:
Oral and Written Communication (GCOM) - 6 minimum
Math, Statistics, and Logic (GMSL) - 3 minimum
Arts, Humanities, Culture, and Diversity (including Religious Studies) (GAHD/GAHR) - 3 minimum
Natural Sciences, Technology, and Innovation (GNST) - 6 minimum
Additional hours from one or more of the above categories; Social and Behavioral Sciences; Arts, Humanities, Culture, and Diversity, and/or Applied General Education courses - 12 minimum
Required Nursing Program Course Requirements
Complete the Following Program/Major Course:
To develop graduates who:
Demonstrate the necessary knowledge and skills to practice nursing with integrity and professional competence.
Integrate critical thinking and problem solving skills during the delivery of nursing care.
Demonstrate clear and effective written and oral communication skills.
Understand the significance of Christian values during the delivery of professional nursing care.
Apply knowledge of social and cultural factors that affect nursing care and enable effective delivery of nursing care in cross cultural situations.
Document

.pdf

Associate of Science Nursing

---

Program outcomes data for all Associate of Science Nursing programs, including Toledo and Youngstown, day and evening

Download
Overall job opportunities for Registered Nurses are expected to be excellent, but may vary by employment and geographic setting. Employment of RNs is expected to grow much faster than the average for all occupations through 2024. In fact, registered nurses are projected to generate approximately 711,900 new jobs, among the largest number of new jobs for any occupation. [bls.gov]
The national median annual salary for registered nurses is $75,330. [bls.gov]